The Beatles
Anthology Revisited
Their own story in their own words, sparing no detail
<![if !vml]>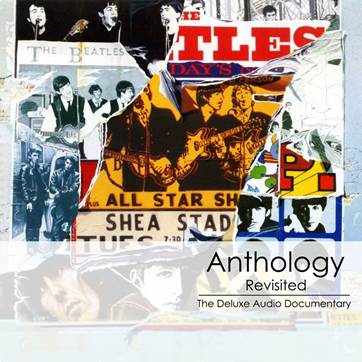 <![endif]>
About
To commemorate the twentieth anniversary of the original Beatles Anthology project comes The Beatles Anthology Revisited, an 18-episode, 28-hour long audio documentary podcast presenting the Beatles' story in the Beatles' own words.
John, Paul, George, and Ringo, are joined by George Martin, Brian Epstein, Neil Aspinall, Mal Evans, Pete Best, and Derek Taylor in the retelling of the history of the Beatles, from its beginnings during the bandmates' childhoods in World War II, up until the present day, most recently when Paul McCartney and Ringo Starr performed together at the Rock & Roll Hall of Fame in 2015.
At more than twice the running time, hear all the dirty details left out of the original Anthology. Discover the inspiration behind virtually every original song the Beatles ever released. Listen as the story is told beyond the breakup, exploring the Beatles' history through the 1970s and after.
Every tour, every album, every film, and every hit single is recounted in painstaking detail by John, Paul, George, and Ringo and their inner entourage. The Beatles Anthology Revisited is the Beatles' Anthology like you've never heard it before.
A new episode will appear every Monday and Thursday through Christmas 2015.
Questions? Comments? Please contact anthologyrevisited@gmail.com.
All interview material used in the making of this podcast are used under the rights of fair use.
The Main Cast
John Lennon, guitar
Paul McCartney, bass
George Harrison, guitar
Ringo Starr, drums
Stu Sutcliffe, bass, 1960-61
Pete Best, drums, 1960-62
Neil Aspinall, road manager
Mal Evans, road manager
Brian Epstein, business manager
George Martin, record producer
Derek Taylor, publicist
Episode One
'I had a vision when I was twelve...'
July 1940 - November 1960
The Beatles story is a famous one. In the beginning, Richard Starkey, John Lennon, Paul McCartney, and George Harrison were born and raised in Liverpool during World War II where they discovered music, learned to play instruments, and formed bands including the Quarrymen, and, ultimately, the Beatles.

In May 1960, the Beatles, consisting of John Lennon, Paul McCartney, George Harrison, and Stuart Sutcliffe, embarked on their first professional gigs. Billed as the "Silver Beetles," they played in support of rocker Johnny Gentle on a tour of Scotland. A drummer, Tommy Moore, was recruited for the tour, but he quit the band shortly after returning to Liverpool.

Through Alan Williams, owner of the Jacaranda music venue in Liverpool, the Beatles were offered a standing gig in Hamburg, West Germany, in August 1960, for which they hastily added Pete Best as the band's new drummer. Best would remain as drummer of the Beatles for the next two years. Richard Starkey, meanwhile, adopted the stage name Ringo Starr and as a member of Rory Storm & The Hurricanes, he began earning a reputation as one of the top drummers on the Liverpool scene.

In November 1960, George Harrison was deported from Germany for being underage and working without a visa. Paul McCartney and Pete Best were deported shortly thereafter, following an arrest for attempted arson. John Lennon returned to Liverpool a few weeks later, while Stu Sutcliffe stayed in Hamburg until the following February, living with his new girlfriend, German artist Astrid Kircherr.
with Special Guests: Alan Williams (promoter/manager), Tommy Moore (musician), John "Johnny Gentle" Askew (musician), Klaus Voormann (artist/musician), Jürgen Vollmer (photographer), Astrid Kirscherr (photographer)
Running Time: 1 hr 52 min
Episode Two
'We started to play at a place called The Cavern...'
December 1960 - December 1962
On 9 December 1960, the Beatles played their first gig back in Liverpool after returning from their first trip to Hamburg, their musicianship much improved. The gig poster billed the group as "direct from Hamburg," leading many prospective fans to believe they were German.
The group embarked on four more residencies in Hamburg over the next two years, each time coming home to Liverpool with more and more fans awaiting their return. Their fandom took off precipitously from the summer of 1961 on, when they began regularly playing crowded lunch time sessions at The Cavern in Liverpool city center to crowds of teenagers and young adults. Their burgeoning reputation caught the eye of local record shop owner Brian Epstein, who offered his services as manager of the band. The Beatles accepted.

Between November 1961 and June 1962, Brian Epstein worked tirelessly to gain a recording contract for the Beatles. An audition for Decca Records was famously a failure. The band passed their BBC audition ("John Lennon: YES Paul McCartney: NO"), and appeared twice on radio in the first half of the year. Through a series of contacts, Epstein was put in touch with Parlophone Records chief George Martin, who agreed to listen to the band, and ultimately signed them to a contract.

After a single recording session for EMI-owned Parlophone, the Beatles unceremoniously dumped drummer Pete Best on 16 August 1962 over the objections of their manager, who was tasked with carrying out the deed. Best was replaced by fellow Liverpudlian Ringo Starr, late of Rory Storm & The Hurricanes. Starr would remain the band's drummer for the rest of their career.

The group's first single, "Love Me Do", was recorded in September 1962, and cracked the Top 20 in November. The following month, the Beatles played their last Hamburg residency, at the Reeperbahn's Star-Club. By then, they had recorded their second single, "Please Please Me", released early in the new year, which proved to be the band's first #1 hit.
with Special Guests: Tony Sheridan (musician), Astrid Kirscherr (photographer), Klaus Voormann (artist/musician), Jürgen Vollmer (photographer), Andy White (musician), Cynthia (Powell) Lennon (artist)
Running Time: 1 hr 40 min
Episode Three
'One long twelve-hour session...'
January - October 1963
The Beatles started 1963 by hitting the road for a week in Scotland, and then four weeks in England and Wales before embarking on their first "package tour" of Britain. They were one of the side attractions to headliner Helen Shapiro, the full-throated teenage superstar.

By the end of that tour, their single "Please Please Me" had reached #1 in the U.K. charts. On 11 February 1963, the Beatles were hastily called into EMI Studios at Abbey Road in London to record their first full length LP, famously tossing off ten tracks in twelve hours. The resulting Please Please Me album went straight to #1 in the U.K., where it remained for most of the rest of the year.

Meanwhile, the Beatles continued their punishing live schedule. After Helen Shapiro, other tours came and went—Chris Montez, Roy Orbison. They recorded and released another single, "From Me To You", which became their second straight #1 hit. Manager Brian Epstein somehow managed to contract with BBC Radio for the group to star in their own weekly half hour show through the spring and summer of 1963. This was unprecedented exposure at the stodgy BBC, famous at the time for its lack of rock and pop music. Another #1 single came that summer with "She Loves You", their biggest hit yet.

On a personal note, John became father to Julian in April, having married Cynthia Powell the previous August. Paul turned twenty-one in June, and a drunken John infamously turned violent at his birthday party. The group hired Mal Evans as second full-time roadie to help out Neil Aspinall. They moved to London, met the Rolling Stones, and recorded another album, With The Beatles, in late summer and fall. It was their second straight #1 LP, replacing Please Please Me at the top of the U.K. charts.
with Special Guests: Helen Shapiro (musician), Cynthia (Powell) Lennon (artist), Jane Asher (actress), Roy Orbison (musician), Mick Jagger (musician)
Running Time: 1 hr 27 min
Episode Four
'This Beatlemania thing started...'
October 1963 - February 1964
Between January and October 1963, the Beatles' fame in Britain rose gradually, though quickly. But over the last ten weeks of 1963, it exploded. If "Beatles" hadn't been a household word in the U.K. before then, it was now. Having relocated to London, stories about the band began to run almost daily in the London newspapers.

On 13 October, they appeared on one of the country's most popular television shows, Sunday Night At The London Palladium, watched by 15 million viewers. Their popularity had spread outside of Britain, and they embarked on a short tour of Sweden at the end of October. When they arrived back at London Airport, hoards of teenage fans awaited their arrival with a wall of screams. Younger fans began screaming at their concerts between songs, then during the entire show.

The band was invited by the Queen to perform at the Royal Command Performance on 4 November. There, John made a famous quip about the haves and the have-nots, the latter group to which the Beatles themselves belonged as recently as April. The television broadcast on 11 November attracted 26 million viewers.
The Beatles released their fourth single of 1963, "I Want To Hold Your Hand", on 29 November. With one million pre-orders, it was their fourth straight #1 hit. Despite all this, the Beatles remained virtually unknown in the U.S.A.

That changed quickly. News items began to appear in magazines, in newspapers, and on television in December 1963. In late January 1964, Capitol Records in America released "I Want To Yold Your Hand" as a single, and it went to #1 in a matter of days. The timing was perfect. The band had been scheduled to appear on The Ed Sullivan Show for three straight weeks in early February 1964, and now, they were backed by a #1 hit.

Their much-hyped American broadcast debut occurred on CBS-TV on 9 February 1964, at 8 p.m. local time. 73 million viewers tuned in. The reviews were unanimously positive. America, too, was now struck by Beatlemania.
with Special Guest: Muhammad Ali (Cassius Clay) (athlete)
Running Time: 1 hr 46 min
Episode Five
'It was just one giant three ring circus...'
February - December 1964
After the Beatles broke the American market in February 1964, their workload only increased. In March 1964, they began production on their first film for United Artists, A Hard Day's Night. When released that summer, the film and accompanying soundtrack were universally praised as some of the best examples of their respective genres. The album and its two singles all became #1 hits worldwide.

The rest of the year was just as momentous. In March, John's book In His Own Write was released. Manager Brian Epstein would follow in his footsteps that summer with his A Cellarful of Noise, a book, in fact, ghostwritten by the Beatles' recently-hired publicist Derek Taylor.

In June, the band embarked on their first world tour, but right before it was scheduled to start, Ringo came down with a severe case of tonsilitis. Instead of cancelling tour dates, the day before they were set to leave, a replacement drummer was recruited in the form of young session musician Jimmie Nicol. He became Fake Ringo for the band's gigs in Europe, Hong Kong, and Australia before Ringo rejoined the band Down Under, and Nicol quickly slipped back into obscurity.

Welcomes around the globe occurred on an unprecedented scale. 500,000 fans greeted the Beatles in Adelaide. San Francisco wanted to throw the band a tickertape parade, an idea which the Beatles rejected—John F. Kennedy had been killed that way just the year before. The band was pelted with jellybeans on stage, their fans' response to a misunderstood joke. In New York, the Beatles met Bob Dylan and smoked marijuana for the first time.

After the tour came to an end in August, the Beatles finished recording their fourth album, Beatles For Sale, another #1. It was accompanied by their seventh straight #1 single, "I Feel Fine". The band barely had time to breathe before they found themselves performing in a Christmas show of music and theater at London's Hammersmith Odeon through the new year. Every performance sold out.
with Special Guests: Jimmie Nicol (musician), Bob Dylan (musician), Richard Lester (filmmaker)
Running Time: 1 hr 48 min
Episode Six
'We make the next film...'
January - August 1965
1965 continued remarkably the same as had the year prior. Plans were afoot for the Beatles to make a film, record two albums and several singles, embark on a world tour, and then perform a Christmas show in London to end with.

First on the band's agenda was the making of the next film and its soundtrack. A provisional title, "Eight Arms To Hold You," was quickly rejected before John came up with the title Help!. As with the previous year, the film, its soundtrack, and its two accompanying singles ("Ticket To Ride" and "Help!") all became worldwide #1 hits.

Though professional obligations may have stayed the same, the Beatles' personal lives changed rapidly. In the scant few weeks they had off at the end of January 1965, Ringo married his girlfriend Maureen Cox. The press got word of their honeymoon arrangements, and an annoyed Ringo held a hasty press conference in order to get some privacy. In March, John and George, and Cynthia and Pattie all took LSD for the first time, unbeknownst to them, snuck into their after-dinner coffee at a party. While John, George, and Pattie very much enjoyed the experience, Cynthia did not, which exacerbated marital issues between her and John.

On the same subject, all four Beatles began smoking copious amounts of cannabis this year, and it became their drug of choice for most of the rest of their time together as a band.

With filming behind them, John Lennon's second book, A Spaniard In The Works, was released in June 1965, to coincide with the start of the European leg of their second world tour. Shows in France, Spain, and Italy were all sell outs, though the madness that increasingly surrounded each stop along the way began to wear on the Beatles and their entourage.
with Special Guests: Maureen (Cox) Starkey (hairdresser), Richard Lester (filmmaker)
Running Time: 1 hr 18 min
Episode Seven
'It was the biggest crowd we ever played to...'
August - December 1965
The American leg of the Beatles' 1965 world tour kicked off with the first stadium show in rock and roll history. On 15 August 1965, the Beatles played to a sold out crowd of 56,000 fans at New York's Shea Stadium, the largest crowd for any one rock concert up until that time. The night before, they had performed for the fourth and final time on CBS-TV's The Ed Sullivan Show. It aired in September to an audience of 47 million viewers.

When the tour reached California, the Beatles enjoyed a few days off, during which they took LSD, this time with Ringo and Neil and a couple of the Byrds, but without Paul, who turned down the offer. A couple days later, they got to meet their musical hero, rock god Elvis Presley, in Laurel Canyon. This was especially exciting to roadie Mal Evans who was one of Elvis's biggest fans. A couple days after that, they performed their final two ever shows at the Hollywood Bowl, which were recorded by Capitol Records for later release.

The Beatles got a few weeks off at the end of the tour before heading back into the studio to record an album for the Christmas season. Though the album was churned out in barely four weeks, it proved to be a musical turning point for the band, straying more heavily into folk and psychedelic sounds than ever before. Rubber Soul was yet another worldwide #1 hit record, and the single released alongside it, "Day Tripper", was the band's third #1 single of the year, and tenth straight #1 single overall.

December 1965 and into January 1966 would be the last Christmas shows in London the Beatles ever did. At the end of it, they took a few months off, their longest break since Brian Epstein had taken over as their manager back in 1961.
with Special Guests: Jim "Roger" McGuinn (musician), Peter Fonda (filmmaker), David Crosby (musician), Elvis Presley (musician)
Running Time: 1 hr 22 min
Episode Eight
'We spend more time on recording now...'
January - June 1966
Shortly after the end of their 1965-66 stand of London Christmas shows, the Beatles went their separate ways to enjoy some time off. George Harrison took the opportunity to marry his girlfriend, model and actress Pattie Boyd. They spent the early days of their marriage out at George's house in Esher, indulging in George's recent fascination with Indian music, and occasionally taking LSD.

Around this time, Paul McCartney would join the crowd and at last have his first experience with LSD, away from the others, in London. Out in Weybridge, John Lennon was taking the drug almost every day, while Ringo was enjoying being a father for the first time, son Zak having been born back in September.

By the time the Beatles convened in April 1966 to record their next album, each Beatle had experienced acid, and the resulting album did not hide that fact. Including songs such as "Tomorrow Never Knows", "Eleanor Rigby", "I'm Only Sleeping", and "Love You To", Revolver was their most adventurous record release yet. No matter, it was another worldwide #1 hit LP. The single from it, "Yellow Submarine", was their eleventh U.K. #1 hit in just the past three years.

A minor stir in the United States occurred around this time when one of their U.S. releases, Yesterday and Today, a repackage of songs from other U.K. albums, drew attention for its cover art featuring the Beatles posing with red meat and decapitated doll parts. The album was quickly recalled, and originals became collector's items. The controversy did nothing to stop the band's popularity, and was just a minor blip compared to the controversy that would meet them later in the year.
with Special Guests: Pattie (Boyd) Harrison (model/actress), Klaus Voormann (artist/musician), Donovan (musician)
Running Time: 1 hr 15 min
A note for Thanksgiving: The next episode (Episode Nine) will be available on Wednesday instead of Thursday, so that Americans with travel plans have something new to listen to. Episode Ten will be released next Monday, after which the release schedule will go back to Mondays and Thursdays.
Episode Nine
'We had to give up touring...'
June 1966 - January 1967
In many regards, the Beatles' 1966 world tour was a disaster. The band did next to no rehearsal or prep work before the tour began. Out of practice and unable to hear themselves play due to the by now tiresome screaming at concerts, the band were frequently out of tune and uninspired.

More concerning were controversies manufactured outside of the Beatles' control that threatened their well being. In the Philippines, after the band turned down an invitation to dine with the President's wife, public outcry was stirred up, and the band's Manila earnings were confiscated.

In the Deep South of the United States, radio deejays began denouncing the Beatles for a comment John made months earlier in a print interview in which he lamented the fact that the Beatles were "more popular than Jesus" among the British youth. John and manager Brian Epstein repeatedly apologized at press conference in the U.S. throughout the tour. The band received death threats, and, at their show in Memphis, a firecracker was thrown on stage, causing an explosion. Each of the Beatles thought one of the others had been shot.

Though sales were strong throughout the tour, the Beatles failed to sell out a number of venues they had the year before, including Shea Stadium. With George and John particularly fed up with the uninformed and irreverent questions they were asked at press conferences, hostility between the band and journalists began to escalate. Tired of the circus, at the end of the tour, the Beatles silently agreed that this was it as far as live shows went. If they were going to be like this, anyway.

In the fall of 1966, George Harrison traveled to India to study the sitar under master Ravi Shankar. Paul McCartney accepted an offer to write a film score for The Family Way, recruiting George Martin to help. John Lennon traveled to Spain after accepting a role in director Richard Lester's movie How I Won The War, and Ringo went along. It was here that John wrote "Strawberry Fields Forever".

Together with "Penny Lane", the song was released as the band's next single, and was the first Beatle single since 1962 to fail to reach #1, stalling at #2. Ringo later called this "a relief," and it set the stage for what was to come in 1967.
with Special Guests: Ravi Shankar (musician), Yoko Ono (artist)
Running Time: 1 hr 37 min
Episode Ten
'This idea of some fictitious band...'
January - August 1967
With two of the first three tracks from their latest recording sessions plucked for release as a single, the Beatles began recording their new LP in earnest in January 1967. For the album, Paul came armed with an idea he and Mal had thought up while traveling abroad. Instead of making a "Beatles" record, the new album would be released under the guise of a fictitious group called Sgt. Pepper's Lonely Hearts Club Band.

The sessions were long and tedious, taking more than six months before the album was finished. Ringo later claimed on numerous occasions that his greatest accomplishment on Sgt. Pepper was learning to play chess. The band no longer played live as a unit in the studio. Instead, the rhythm track was laid down first, followed by guitars, then vocals, then other effects, and so on. The result was a growing distance between each of the Beatles. Reportedly, George Harrison began skipping many studio sessions during this period, only turning up on days when his guitar playing was needed.

Nonetheless, Sgt. Pepper's Lonely Hearts Club Band is often singled out as the pinnacle of the Beatles' recording career. It was a commercial and critical blockbuster, the album topping the charts all over the world for much of 1967. It influenced pop music for years to come.

No single was released from the album, but six weeks after it hit record store shelves, the Beatles were on television, taking part in the first worldwide live satellite broadcast, entitled Our World. For the television special, the Beatles wrote and recorded a new song, "All You Need Is Love." It became something of an anthem for the summer of 1967, often referred to as the "Summer of Love." Unlike its predecessor, the single firmly ensconced itself at #1 on the U.K. charts and abroad.

The Beatles ended the summer by taking a holiday in Greece with an eye on buying an island. Nothing came of it, and the band spent the rest of 1967 working on other projects.
with Special Guest: Brian Wilson (musician)
Running Time: 1 hr 26 min
Episode Eleven
'He just drew a circle...'
August 1967 - February 1968
In August 1967, George Harrison was introduced to the teachings of the Maharishi Mahesh Yogi, a guru of the Transcendental Meditation movement. He was giving a lecture in London, so George, Paul, and John attended with their significant others. Ringo and Maureen were busy elsewhere, their second child, a son, Jason, having been born on the 17th of August.

Impressed with the lecture, George, Paul, and John recruited Ringo to come with them to Wales, where the Maharishi was hosting a retreat that weekend. Ringo came, and he and the others were enjoying the experience, when news reached them that their manager, Brian Epstein, had been found dead of an accidental drug overdose.

Stunned, the Beatles carried on as best they could, knowing next to nothing about the business side of their affairs. Instead, they pursued their next creative venture. Taking a cue from the capers of Ken Kesey and his Merry Pranksters in San Francisco, Paul's next big idea for a Beatles project became Magical Mystery Tour. He reportedly went around to each of the Beatles with a piece of paper, on which a circle was drawn, divided into several pie pieces. This was the "script." The Beatles would "write" and direct the film themselves. Paul hired a film crew, and with the flimsiest of ideas, they set off on a bus tour of southwest England, filming whatever happened.

The result was a 50-minute television special, first broadcast on BBC-1 on Boxing Day 1967. Though the film was made in colour and several sequences (particularly "Flying") depended on it, the initial broadcast was in black and white. The film was derided by critics, though the music was generally praised. A single, "Hello Goodbye" was recorded during this same period, and went to #1. Meanwhile, George left for India to record the soundtrack for a British film called Wonderwall.

In February 1968, George returned to India, this time with the three other Beatles, in order to study Transcendtal Meditation under the Maharishi. Before leaving, they spent a few days in the EMI Recording studios at Abbey Road, producing a single for release during their retreat. "Lady Madonna" was yet another #1 hit. Another song from the sessions, "Hey Bulldog", was destined for the Yellow Submarine soundtrack, a cartoon film featuring the likeness of the Beatles, and another commercial success. The Magical Mystery Tour reviews didn't keep the Beatles down for long.
with Special Guests: Cynthia (Powell) Lennon (artist), Maharishi Mahesh Yogi (guru)
Running Time: 1 hr 32 min
Episode Twelve
'I had a feel for India...'
February - July 1968
On Valentine's Day, 14 February 1968, roadie Mal Evans flew to India, a day ahead of John Lennon and George Harrison, and five days ahead of Paul McCartney and Ringo Starr. The group were bound for Rishikesh, where the Maharishi Mahesh Yogi had a camp set up for the study of Transcendental Meditation. All the Beatles entered the adventure enthusiastically.

Ringo's enthusiasm quickly wore off, leaving the camp after ten days. The bugs, weather, and diet didn't agree with him or his wife Maureen, and Ringo later hinted that he found the Maharishi to be a bit of a phony, though he did appreciate his sentiments.

Paul and Jane Asher left after six weeks, having planned their departure at the outset. John and George and their wives stayed another five weeks, before leaving amidst some hullabaloo. The generally accepted account is that John's latest hanger-on, a Greek fellow named "Magic" Alex Mardas, showed up in India with marijuana and LSD, and everybody began partying while Alex began making accusations against the Maharishi. John ultimately sided with Alex, and left.

The group busied themselves with work upon returning to the U.K. First, they went to George's house to tape a demo reel of songs they'd written in India—more than thirty compositions in all. These would make up the backbone of what became known as The White Album. Before the sessions got underway, John and Paul flew to New York for a quick press junket announcing the formation of their company, Apple Corps., which would handle their business affairs and begin signing new creative talent. The hole left in the wake of Brian Epstein's death was enormous.

When the group convened at EMI Studios at the end of May 1968, the sessions were immediately frought with tension. Paul was annoyed with John, George was annoyed with John and Paul, and John was annoyed with everybody. He was quickly losing interest in the Beatles, now that he'd dropped his wife in favor of artist Yoko Ono, who was a daily presence in the recording studio.

Things got bad enough that George Martin altogether disappeared from his producer's role, even going on holiday in the midst of "The White Album" sessions. Yet, despite the turmoil, the Beatles somehow turned out "Hey Jude"/"Revolution", another #1 hit single. The best seller of their career.
with Special Guests: Donovan (musician), Maharishi Mahesh Yogi (guru), Cynthia (Powell) Lennon (artist), Eric Clapton (musician)
Running Time: 1 hr 32 min
Episode Thirteen
'There's no cover...'
July - December 1968
The "White Album" sessions dragged on from May 1968 well into October. They survived the temporary departure of Ringo from the band in August. The result was a behemoth double album. The band were unsure what kind of response the unwieldy mishmash would get, ranging from country to doo-wop to folk to blues to musique concrète.

In the end, the critical reception was largely positive, if more tepid than it had been in the past. No matter, sales were strong, and "The White Album" remained at #1 in the charts through the end of 1968 and into early 1969, despite the increased cost of a double LP.

After a few press appearances in promotion of the album in November 1968, the Beatles busied themselves outside the group. First up was John's solo debut, an avant-garde sound callage he made with girlfriend Yoko Ono called Two Virgins, controversial because the couple appeared naked on the album cover. Shortly after its release, the couple formed a one-off band called The Dirty Mac with Eric Clapton (guitar), Keith Richard (bass), and Mitch Mitchell from The Jimi Hendrix Experience (drums) to perform on The Rolling Stones' television special Rock & Roll Circus.

George, meanwhile, flew to the U.S. to spend time with Bob Dylan in Woodstock, where the pair wrote a couple of songs. He then flew to L.A., did some press for The White Album there, and appeared in a brief cameo on The Smothers Brothers Comedy Hour, a show that was having a very public fight with its network censors at CBS over satirical jokes they refused to stop making about President Lyndon Johnson and the Vietnam War. George stopped by to show his support.

Paul stayed in London and produced Mary Hopkin's LP Postcard, during which he caught up with old friend Donovan. Ringo arranged to co-star in a movie with Peter Sellers called The Magic Christian, due to start filming early in the new year.

At the end of the year, John and Yoko were in the news again when they were busted for marijuana possession in their London flat. Lucky it was only a setup, or else the police may have found the couple's real drug of choice at the time: heroin. It did not bode well for 1969.
with Special Guests: Linda (Eastman) McCartney (photographer), Mick Jagger (musician)
Running Time: 1 hr 26 min
Episode Fourteen
'That period was the low of all time...'
January 1969
The making of "The White Album" had been an unpleasant experience for many of those involved. Paul McCartney wanted to wash away the bad blood, have the Beatles get back to their roots, and perform somewhere, anywhere, live once again.

His idea was to film a "making of" television special of the concert, after which would be a live broadcast of the band performing for an audience for the first time since 1966. They would release the result as an album.

For this purpose, Twickenham Film Studios were booked for thirty days in January 1969, but that's about as far as plans got. The Beatles picked up right where they had left off at the end of "The White Album" sessions. Nobody was in the mood for each other, and they had just exhausted all the best of their material. Rehearsing in a strange place while being constantly watched and filmed wore on them, and George quit the band.

After a few days away, he came back, but only after the live concert idea was dropped. They finished off the songs they were rehearsing and recorded them for an album, recruiting keyboardist Billy Preston as "Fifth Beatle." For some dramatic flair to end the documentary, now destined for theaters instead of television, the band played a few of the new songs from the top of the Apple Corps. building in London. It proved to be the last live performance of the Beatles' career as a band.

At the end of January, the group went their separate ways once again, and two of them got married. It was a hectic time to be a Beatle.
with Special Guests: "Magic" Alex Mardas (raconteur), Billy Preston (musician)
Running Time: 1 hr 28 min
Episode Fifteen
'We made it in Abbey Road...'
February - September 1969
In February 1969, Ringo began work at Twickenham Film Studios on The Magic Christian. On 2 March, Yoko and John performed an avant-garde rock and roll piece for an audience at Cambridge University, which became part of their second LP, Life With The Lions. George would release an avant-garde album of his own in May, called Electric Sound.

On 12 March, Paul went down to a registry office in London to marry girlfriend Linda Eastman. Eight days after that, John and Yoko flew to Gibraltar and got married there. None of the other Beatles attended either wedding. "Get Back" was released as a single on 11 April and went to #1.

John and Yoko took the opportunity of the press coverage of their recent nuptials to stage a "Bed-In", a publicity stunt to promote peace, where they held day-long press conferences for a week from their bed in the honeymoon suite at the Amsterdam Hilton. The experience inspired the next Beatles' single, the quickly recorded "The Ballad of John & Yoko," another #1.

A "second honeymoon" followed in the form of a similar Bed-In in Montreal, picked because John was refused entry into the United States due to his recent drug bust. From their Montreal bed, John and Yoko recorded "Give Peace A Chance" with assistance from Derek Taylor, Tommy Smothers, and others. The first "Plastic Ono Band" single reached #2 in the U.K. charts.

Disappointed with the results of the January recording sessions, the Beatles agreed to make one more record the "old" way, with George Martin firmly at the helm. For this, they resurrected several half-finished songs dating back as far as the Rishikesh days, and assembled a medley out of them. Abbey Road was recorded over the course of the summer of 1969 without animosity, unlike Let It Be and "The White Album" before it. This was borne out of a sense that this was going to be their last time doing this, and it was.

When released in September 1969, Abbey Road was another worldwide #1.
with Special Guests: Yoko Ono (artist), Linda (Eastman) McCartney (photographer)
Running Time: 1 hr 48 min
Episode Sixteen
'After Brian died, we collapsed...'
October 1969 - April 1970
In September 1969, John Lennon received a phone call from Canada, inviting him to emcee a concert festival in Toronto at which would be performing several of Lennon's rock and roll heroes of the 1950s.

John one-upped the request and agreed to perform, hastily assembling a new "Plastic Ono Band" consisting of himself and Yoko, Eric Clapton (guitar), Klaus Voormann (bass), and Alan White (drums). The resulting set was released as the album Live Peace In Toronto, which reached #10 in the U.S.

Shortly after returning to London, John and Paul were attending an Apple business meeting, when John announced he wanted a "divorce" and was leaving the Beatles.

No statement was made at the time, and the individual Beatles played coy in press interactions over the following months. In October, John and Paul gave interviews to deflect the "Paul Is Dead" rumour, failing to mention the breakup. In November, each Beatle separately recorded a piece for the Beatles' annual fan club Christmas record, business as usual. In December, George and others including Eric Clapton joined John and Yoko onstage for a Plastic Ono Band performance in support of a UNICEF fundraiser at the Lyceum Ballroom in London. The result was released years later on Sometime In New York City.

In January 1970, Paul, George, and Ringo recorded "I Me Mine" for inclusion on the forthcoming Let It Be LP. The tapes were then handed to producer Phil Spector in order to edit and remix them for release. Producer Glyn Johns had been given three attempts at mixing an album, but the Beatles were unhappy with the results each time. When Spector was finished, all but Paul was satisfied with Let It Be, and Paul later used this as a legal basis for dissolving the Beatles as a group.

On 10 April 1970, Paul McCartney's first proper solo album was released, entitled McCartney. That day, he issued a press release, saying he didn't foresee ever working with John Lennon again. The press ran with the news. It was over. The Beatles had broken up.
with Special Guests: Yoko Ono (artist), Klaus Voormann (artist/musician), Eric Clapton (musician), Phil Spector (record producer)
Running Time: 1 hr 23 min
Episode Seventeen
'We just ended up for a while at each other's throats...'
May 1970 - December 1976
In the aftermath of the Beatles' breakup, each ex-Beatle went into the recording studio to make a new album. Paul's homemade affair, McCartney, coincided with the break up announcement, and it peaked at #2 in the U.K. and #1 in the U.S. George's All Things Must Pass, released in November 1970, was a worldwide #1, and John's Plastic Ono Band, released in December, reached the Top Ten. Only Ringo's Beaucoups of Blues flopped, reaching #65 in the U.S. and failing to chart in the U.K.

The breakup wound its way through the legal system and there was occasional bickering between John and Paul through the press. John's second LP, 1971's Imagine, included the track "How Do You Sleep?", the lyrics of which pointedly derided Paul's talent. John claimed that the track was in response to Paul's more veiled jabs aimed at him on Ram. The feud was put to bed with Paul's "apology" track, "Dear Friend", released at the end of the year on Wings' debut album Wild Life.

In August 1971, George tried to put the feuding aside and invited each of the ex-Beatles to participate in the Concert For Bangladesh. Paul declined, for fear of fueling reunion rumours. John initially agreed, but backed out after George's insistence that Yoko be excluded. Only Ringo ultimately joined George for the two concerts at Madison Square Garden.

In 1972, John, George, and Ringo at last gave Allen Klein the boot. John even went so far as to sourly admit that Paul had probably been right about Klein all along. Reunion rumours and offers increasingly plagued the ex-bandmates. All four Beatles played on sessions for Ringo's 1973 LP Ringo, adding fuel to the fire. When John, George, and Ringo reunited for the track "I'm The Greatest", George suggested forming a band called "The Ladders" with Billy Preston and Klaus Voormann, but John rejected the idea.

In 1974, John reunited with Paul for a coke-fueled jam session heavily bootlegged as A Toot And A Snore In '74. It proved to be the last recording of them playing together.

On 5 January 1976, roadie Mal Evans was killed by the L.A.P.D. after an argument. By then, John and Yoko were parents to newborn son Sean, and John had taken a hiatus from the music business.
with Special Guests: Yoko Ono (artist), Sean Lennon (musician)
Running Time: 1 hr 23 min
Episode Eighteen
'Just imagine the Beatles getting together again...'
January 1977 - April 2015
After five years away from the limelight taking care of his toddler son Sean, John Lennon returned to the music business in the fall of 1980 with the new album Double Fantasy. He had just begun doing interviews in promotion of the album when he was shot and killed outside his New York City home.

The other Beatles reacted with shock and sadness. George invited Paul and Ringo to appear on his song "All Those Years Ago", released in early 1981 in tribute to their fallen friend. In 1982, Paul recorded the song "Here Today," his own tribute to John.

Reunion rumours continued to plague the remaining three Beatles as Ringo sporadically performed with either Paul or George in the 1980s and early 90s. The rumours finally came true in 1995, when the three reunited for the Anthology project. The project consisted of three double albums made up of old outtakes and live performances, two new songs based on John Lennon demos from the 1970s, and a 12-hour documentary, an edit of which was broadcast internationally as a three-part miniseries. All three Anthology albums reached #1 in the U.S. The documentary was one of the most watched telvision programmes of the year. "Free As A Bird" was a Top Ten hit worldwide, and "Real Love" reached the Top Twenty.

Not long after the conclusion of the Anthology project, George Harrison was diagnosed with cancer. He died in 2001. A concert organized by George's good friend Eric Clapton was performed on the first anniversary of George's death, called The Concert For George. Among others, it featured both surviving ex-Beatles, Paul McCartney and Ringo Starr, along with a plethora of "fifth Beatles", including Clapton, Billy Preston, Jeff Lynne, and Klaus Voormann.

Since then, Paul and Ringo have reunited from time to time, most recently in 2015 for Ringo's solo induction into the Rock & Roll Hall of Fame. Though their time as an active band has passed, the Beatles continue to influence musicians and interest music fans to the present day.
with Special Guests: Mick Jagger (musician), Eric Clapton (musician), Jeff Lynne (record producer/musician), Klaus Voormann (artist/musician), Billy Preston (musician)
Running Time: 1 hr 59 min
That's it, everybody! Hope you enjoyed it!